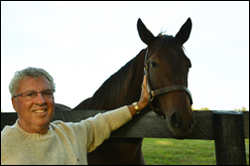 Barry Meadow, who heads TR Publishing, has spent more than 40 years in the gambling world.
He wrote his first book, Success At The Harness Races, in 1967.  Later he worked as a handicapper and racing-magazine editor, contributing articles to various publications, including an article on mule racing that appeared in Sports Illustrated.
For five years in the 1980s, he gambled full-time on the harness races at Los Alamitos in California.  It was during this time that he formed TR Publishing and started Trot Report, a small weekly sheet covering the local harness scene.
In 1987, TR Publishing produced Meadow's Professional Harness Betting, a 300-page manual which explains how to become a full-time professional player.
In 1988 the company published his Money Secrets At The Racetrack, which has been lauded by virtually every expert as the definitive guide to money management at the track.  In the same year he began Master Win Ratings, a service that rated every California horse and which he produced until his retirement in 2011.
Meadow also has written Secrets Of The Pick 6, a booklet which delves into the successful strategies needed to hit this difficult bet, and Players Guide To Nevada Racebooks 1999-2000 Edition, for which he visited every racebook in the state to find the best values for players.  He also wrote a series of reports on various topics which is sold as Barry Meadow Reports.
For seven years, from November 1996 through October 2003, TR published Meadow's Racing Monthly, an award-winning handicapping and money-management newsletter.  It featured articles on how to make the most money at the track, investigative exposes about the handicapping world, original statistical research, and systems tests from a large computer database.
In 1999, Meadow's wrote Blackjack Autumn: A True Tale of Life, Death, and Splitting Tens in Winnemucca, the humorous and exciting story of his two-month quest to play blackjack in every casino in Nevada.  In 2003, Meadow wrote Crushing The Internet Casinos, a guide to how to make thousands of dollars via the Internet that was published by Huntington Press.
Meadow has presented at every Handicapping Expo since 1990, was a member of the NTRA Players Panel, and is an adviser to the Horseplayers Association of North America (HANA).  He was featured in the 2007 documentary, Players: The Blue Collar Gambler.  His eclectic resume also includes serving in Vietnam, writing television sitcoms, playing professional tennis in India, and doing standup comedy in California.
Currently, he writes a monthly column for American Turf Monthly called The Skeptical Handicapper, which is also the title of a new book he is writing.  He also is a regular contributor to HANA 's monthly newsletter.
In recent years, he's testified as a players' advocate on several issues before the California Horse Racing Board, was part of the negotiating team which helped bring the low-takeout Players Pick 5 to California, and has been featured in the HorsePlayerNow instructional series and on Steve Byk's radio show, At The Races. 
For more, check out Ray Paulick's interview here: