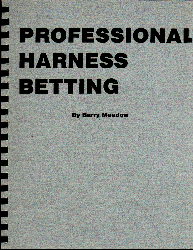 This is not just another how-to book, but the first manual ever written by a full-time professional harness bettor for the average player who is determined to win substantial money at the track.  It's easy to understand and simple to use.
It's the breakthrough book that will make you a winner.  The author spent five years gambling full-time on the harness races, and shares all this knowledge in Professional Harness Betting.
Harness-race betting is completely different from any other business.  It is not like betting on thoroughbreds or greyhounds, and it is not like poker or blackjack.  It is a highly specialized field–and, until now, a business that took years to learn.  Year in and year out, all over the country, a select few make serious money at harness-race betting.
And if you would like to join them, you need this manual.
Professional Harness Betting will give you the skills you need to become a winning player.  Just look at a few of the amazing, winning secrets you'll find only in this new book:
How to tell if a horse is really trying or is merely out for exercise (see page 49)
Learn to scrutinize warmups to find winning longshots (see page 176)
Find out when a seventh-place finish might indicate good form (see page 130)
How to find false favorites and play against them for big profits (see page 31)
How to make price lines and use them for greatest winnings (see page 221)
Learn how to analyze horse's trips in a professional manner (see page 74)
Not one fan in a thousand knows these never-before-told secrets–which is why sharp players continue to win year after year.
And there's more–much more.  Professional Harness Betting contains more than 300 pages (8 1/2 x 11 to easily lay flat) of power-packed winning information written in a clear, easy style.
If you are already an advanced handicapper, this book will help you even more.  You'll learn about setting up a computer database to develop power ratings, how to use our unique bet charts for maximum profits, and a secret betting technique known only to professional harness bettors (this one hint alone could be worth thousands of dollars to you).
Yes, this book is expensive–but this is the only step-by-step detailed manual written by a full-time professional player.  How much is it worth to you to become a steady winner at the harness races for the rest of your life?
If you go to the harness races only once in awhile, this book will still be a great help to you because you'll start looking at harness races in an entirely different way.  Even if you go to the track only once a week or once a month, it will show you how to become a winning player.
Betting the harness races requires specialized knowledge–the knowledge that you will learn from reading Professional Harness Betting.
If you sincerely desire to make big money playing the harness races–no matter what track you play–the techniques taught in this manual will serve as your guidepost.  There's never been another book like this, because no one else could write a book like this.
---