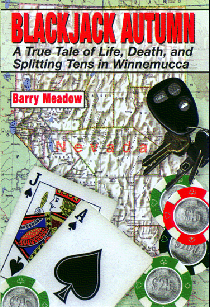 When Barry Meadow decided to take two months off from his life to play blackjack in every Nevada casino, he had no idea what he would find. Leaving behind his business, his fiancee, and his son, he set out on the road with a suitcase, a tape recorder, and $8,000 on the journey of a lifetime. Every day would be an adventure. With no guarantees of anything except a long time away, a long way from home.
He ran into cowboys and Indians, suffered the Stardust curse, and learned more about the real world of gambling than anybody should have to know.
You'll meet Ralph the wily millionaire, discover why Canada is such a beloved country, and join the greatest blackjack game ever seen. You'll learn why Stevie should not be allowed to carry an Uzi, why Mr. Funkengruven is to be admired, and what it's like to await the turn of a $2000 card.
It's a story that only Barry Meadow could tell. And it's a story that you will never forget.
(351 pages, paperback, $14.95 plus $5.00 shipping)
FROM BLACKJACK AUTUMN:
Baldini's is a locals-only casino on Rock Boulevard that caters to every working stiff who's ever gotten drunk and every tattooed girl who's ever gotten pregnant.  Every time I visit this place, it's packed, and not with astrophysicists.  It's a throwback to the type of casino that probably existed 50 years ago, before janitorial supplies were invented.
As I walk around the Owl Club, I assess the situation.  Here I am in some godforsaken, trailer-filled town playing in a four-deck game with bad rules, joined by two poor players, with half a dozen drunks at the bar and one guy playing quarter video poker.  Surely professional gambling can't have much less glamour than this.
Cattle are everywhere.  Near the road, on the road, blocking my path.  I'm not sure exactly how you get them to move, so I tell them, "Get along, little dogie." They stare at me as if I'm a moron.  Of course it's not just me they don't like, but all humanity.  They may have a point.  After all, how much respect can you have for a species that reveres both polyester and Pauly Shore?
YOU'LL NEVER FORGET BLACKJACK AUTUMN.
AND IT'S ALL TRUE.
---
(Click here to read recent reviews)