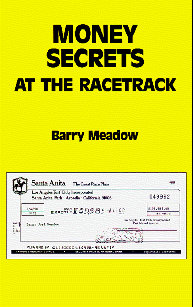 If you want to make serious money betting the races, you know that handicapping is only half the battle. The other half is knowing how to bet.
Money Secrets At The Racetrack is the only book written by a professional player that covers every aspect of money management.  It's the only one that gives you exact methods on how to make the most money at the track.
There's nothing in here about handicapping.  You pick the horses–then this book shows you exactly how to play to make the most money on your selections.  It shows you how to make the best bet for the odds–every time.
It explodes those crazy myths you've heard around the racetrack–myths perpetuated by losers.  There are no wacky betting schemes, crazy double-up methods, or bizarre due-column strategies–just the straight stuff.
Simply put, this book shows you how to win.
Money Secrets At The Racetrack goes into every type of bet available at the racetrack and shows you exactly to properly play each of them. Whether you're a big player at Belmont or a weekend warrior at Gulfstream, this is the one book you need to reach your personal profit potential.
Best of all, you don't need a computer, or any special mathematical knowledge, to use these powerful winning techniques.
Money Secrets At The Racetrack is written in plain English and all its advice is easy to use at the track.  It's written for the average fan who wants to win substantial money.
At the heart of this book is a series of charts that show you exactly how to make the best plays in each race.  Just take the charts with you to the track–and start using them to win immediately.
There's no reason to restrict your play to only one type of bet.  Once you have this book, you'll look at profit opportunities wherever they present themselves. In some races, you'll bet to place only.  In others, you'll play three exacta combinations.  Sometimes you'll play multiple tickets in the Pick 3.  Or maybe you'll bet two horses to win.  Or hammer the trifecta.
Once you read Money Secrets At The Racetrack, you will look at racetrack betting in a new and exciting way. Suddenly, everything will become crystal clear.  Exactly how much to play on which combinations.  When to pass.  How to  maximize your own bankroll, no matter what size.
The big winners in racing today are those who are up to date on the latest winning methods–the methods that are in this book.
Whether your game is thoroughbreds, harness racing, or greyhounds, if you're interested in making serious money at the racetrack, you simply must have this book.
---
(Click here to read recent reviews)