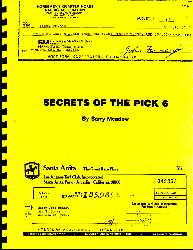 Would a $100,000 check help your day?
The Pick 6 can change your life.
How would you like to go to a special window, not open to the general public, and accept a check for $100,000?  It's happened to author Barry Meadow not once, but twice.  And in Secrets Of The Pick 6, you'll learn how you can win those big payoffs.
Frankly, a $100,000 check makes up for a lot of lost photos.  Wouldn't it be nice to share with your friends a happy racetrack story for a change, instead of those bad beat tales we've all heard before?
Few players have any idea how to play the Pick 6, which is one reason this might be the best bet of all.  Not only is it hittable, but carryovers add thousands of dollars to the jackpot–and at a track like Del Mar, it may take only one day to reach a carryover figure exceeding $100,000.
But the Pick 6 is not for everybody.  It's certainly not for the little guy playing $32 tickets (and understanding this concept might save you thousands of dollars over time).  And it's not for the lazy player who wants to fill out one big ticket and hope for a miracle.
Still, someone is taking down those huge payoffs.  So why not you?
Follow the strategies in this 43-page report, and, with luck, your day will come.  And it might be a very big day.
The Pick 6 has long been the domain of big players using multiple tickets. Their secret strategies have never been revealed to the average player–until the publication of this report.
Among the topics you'll find in Secrets Of The Pick 6:
How to determine your typical Pick 6 payoff.  This section shows you how to calculate your likely payoff given the horses that you've decided to use.  There's no point playing a $400 ticket with a 6% chance to hit when the typical payoff with these horses figures to be only $3,000.  You'll be shown how to figure this.
When you should pass the Pick 6 even with a carryover.  At times the Pick 6 will offer you no value, even with those free dollars in the pool.  Play these tickets and your losses mount.  Avoid them and you'll have more money to play when the odds are in your favor.
The one time you should always play the Pick 6.  It's called mandatory giveaway day, and the track gives away the whole pool including carryovers–so even if you have only five winners, you might share in the big pool.
Whether you should go large or small on your tickets.  Proper bet sizing is crucial to Pick 6 success.  Bet too little and you have too small a chance to win.  Bet too much and you risk losing enormous amounts of money.  This section explains how to determine how much to play.  You'll also learn how to avoid wasting money on tickets that have nothing but obvious favorites.
How to construct tickets for greatest success.  Are you better off singling a longshot or a favorite?  Are you better off with several singles, just one, or none at all?  Use our formulas for the best chance at the biggest payoffs.
The 43 pages of Secrets Of The Pick 6 are packed with winning information. If you've ever played the Pick 6–or you ever plan to–then you simply must have this booklet.